With an empty stomach, a full memory card and a dead battery, I headed into the Nissan360 Headquarters to charge my phone, change my camera batteries, and devour some lunch.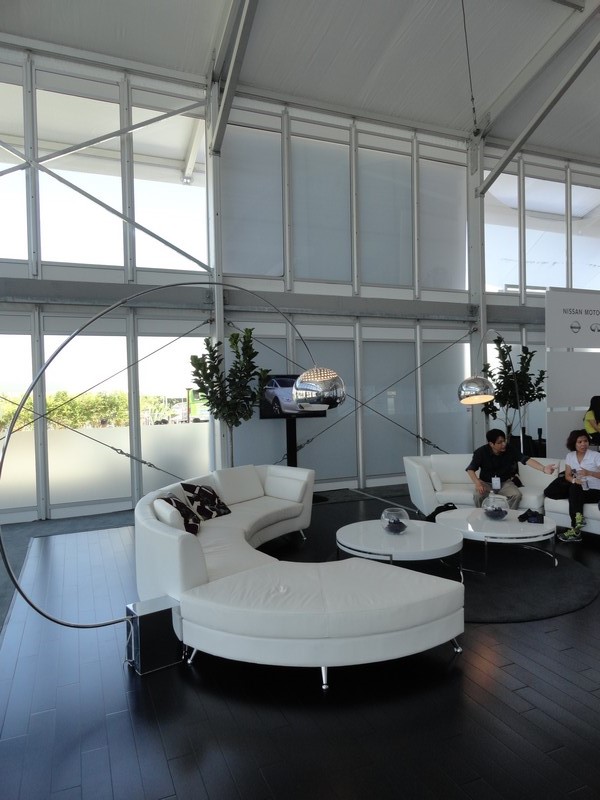 The food trucks didn't disappoint, and I went back for another Dogzilla and a hearty helping of Ben & Jerry's! I spent some more time chatting with my new friends Brian and Juan, and we discussed what we'd seen and done so far that day.
Before heading back out, we caught a presentation on Nissan Motorsports – Here's a short clip… Enjoy!
Let me preface this next section by saying, I'm not a truck guy. I've always owned a truck, but I view them as utilitarian – I've always driven our various trucks when I needed to, not because I wanted to. Our 2005 Frontier Crew Cab 4×4 with the VQ40 and the 6-speed transmission is easily the best and most reliable vehicle I've ever owned, and it's a true member of the family. I know that if I came home from an event without checking out the trucks, I'd hear it from my wife Becky (NICOclub's Business Manager). She's a true truck gal, so I headed off to the off-road course to see what Nissan had to offer.
The Nissan360 team had laid out an Adventure Course that involved participants traveling from station to station, each designed to showcase the unique attributes of each vehicle along the course. Due to some technical difficulties, I didn't get many pictures or video of this area, but I'll walk you guys through the experience. Let's just say I was amazed at some of the capabilities of the Nissan trucks we all love.
Here's a map of the course: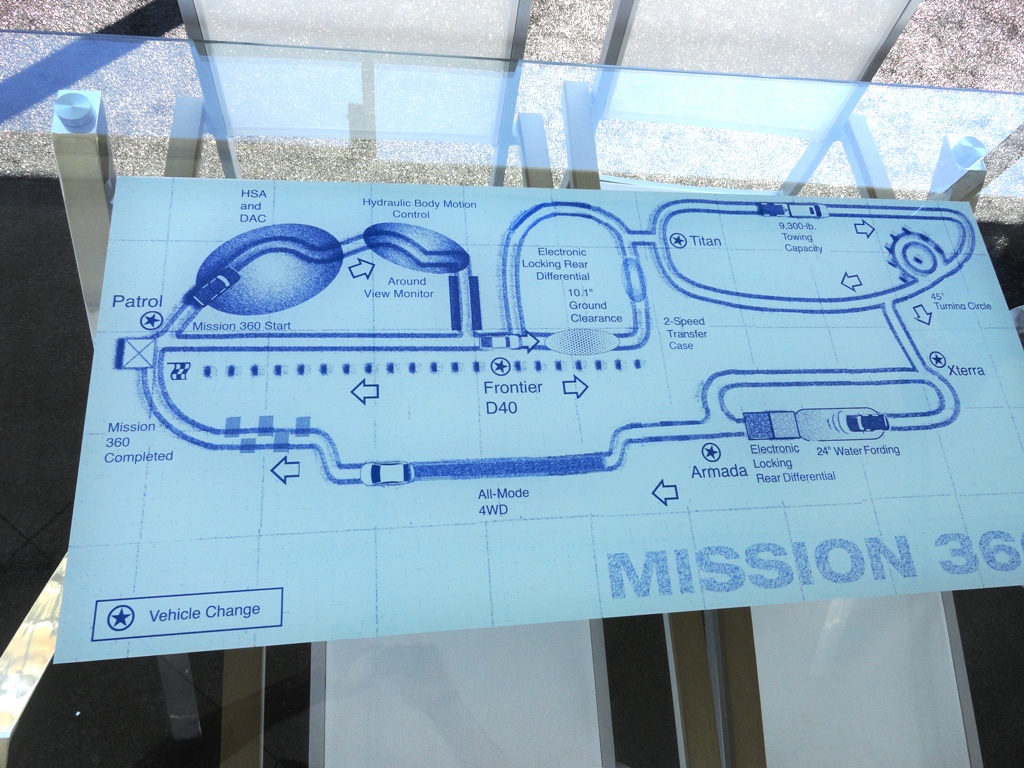 The adventure began with a new Nissan Patrol. While the Patrol isn't available in the US market, the QX80 is.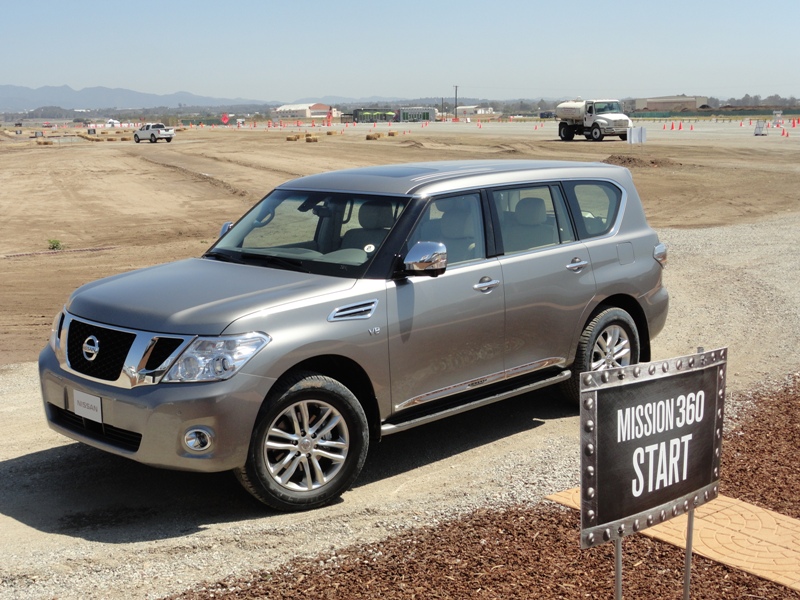 Here's a video of the Patrol displaying some of its off-road prowess.
Just after my camera died, we used the Around-View monitor to cross a narrow path using ONLY the in-dash screen. This is super-handy when off-roading without a spotter, and saves you from having to hang out the window to orient your tires on a trail!
Next up was the Frontier. The first test demonstrated the Hill-Descent feature, and it's a unique experience to voluntarily relinquish control of a truck on a 40-degree downhill grade. I felt like I was looking straight down, and the Frontier gently meandered down the hill without slipping or flinching. Total control. Then, we pulled into a long stretch of deep loose rocks… a huge challenge for most vehicles, as the tires displaced the round rocks like piles of marbles. My co-pilot directed me to launch the Frontier at full-throttle in the rocks, to demonstrate the four-wheel limited slip differentials. To my amazement, there was no drama, no rocketing projectiles – Just smooth, seamless acceleration out of the rock pit.
The next truck to play with was the venerable Titan. While the big workhorse of the Nissan lineup is getting a little long in the tooth, you don't mess with a good thing. This test had the Titan hitched to a 9,500-lb trailer. The goal? To demonstrate acceleration to 60 mph – and panic braking – on a rough dirt road. I thought, "This is insane – we're going to break something." Not one to shy away from an extreme torture test, we hammered the VK56-powered beast up to 60, which didn't take long… and then I stood on the brakes. I expected somewhat more dramatic results. Even with the electronic brake controller dialed down to 5%, the big Titan stopped straight, smooth, and in a far shorter distance than I expected.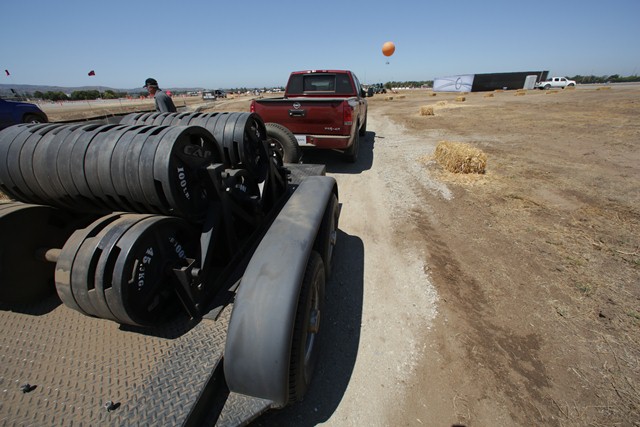 I was really excited to see the Xterra was next on the course. Those of you who follow off-roading know that the Xterra is a super-capable all-terrain vehicle, even in stock form. Check out the "Gone MOAB" event, an extreme off-road excursion for owners of Nissan 4×4's. For this test, we'd be simulating the fording of a stream or crossing deep water. With its steep approach and departure angles, the Xterra plopped down into the water like a duck, and churned cleanly out the other side.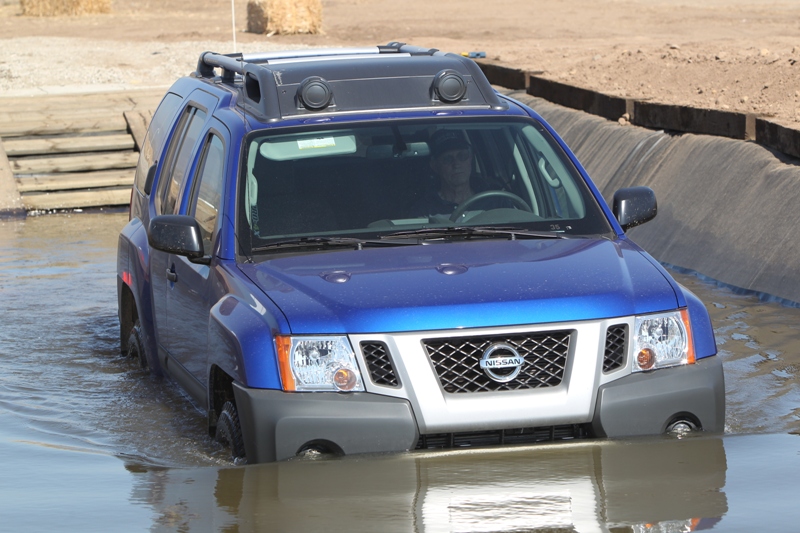 Finally, we came to the Armada, and the goal of this demonstration was to show how refined and well-behaved the big SUV was over nasty terrain at normal speeds. The course involved some deep ruts, severe holes, and a section of undulating road that should have rocked the massive Armada side-to-side violently – it didn't.
Don't let the domestic truck guys fool you – While they're building single-purpose trucks that do a fine job, Nissan's got some pretty capable vehicles for a wide range of off-highway work – and play.
OK, back to the cars – Click here for Nissan 360 – Part 13!