After a long day of driving amazing cars, meeting new people, and soaking up a ton of knowledge about Nissan worldwide, my fellow journalists and I loaded up to head back to Pelican Hill to prepare for the Infiniti Reception dinner. This was a truly classy event, with a multi-course meal and a delightful ambiance.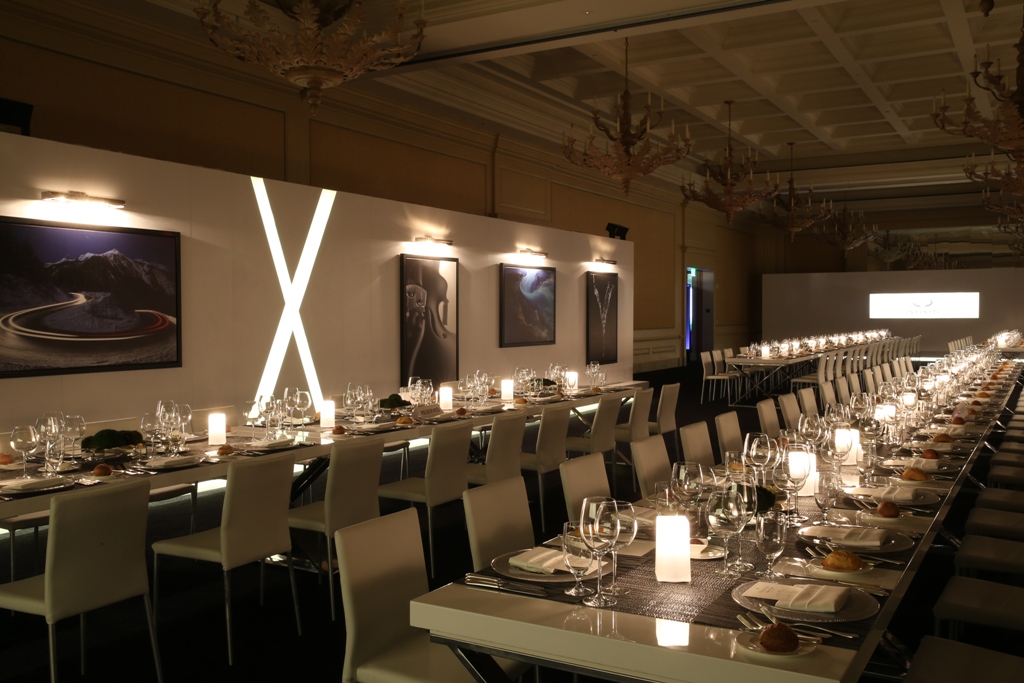 Several Nissan executives milled about, chatting with the attendees, and I had the great fortune to meet Nissan's Chief Operating Officer, Mr. Toshiyuki Shiga. He has been with Nissan Motor Co. for 37 years and he's currently the second-in-command, after CEO Carlos Ghosn.
Shiga-san and I spoke briefly about my passion, which is collecting classic Datsuns, and I even got to show him pictures of our cars. It was genuinely delightful to hear and see his reactions as he scrolled through the pictures, and he presented me with his business card. I presented mine in return, and with a broad smile, he announced, "Today, I'm sixty years old!" I'd love to have time to sit and talk with him again someday.
At dinner that night, I made some other new friends. I was seated next to Andrew Jennings, Product Planner for Sentra. Some of you may remember him from our Live Chat on NICOclub when the B17 Sentra was unveiled. Nathan Adlen, President of TheFastLaneCar.com, joined us – His niche is a video blog on all things automotive, and he shares my eclectic taste in cars. Definitely check out his site! Also, I met with Vishnu Jayamohan, Maxima Product Planner. Vishnu is engaging and brilliant, and we made plans to "talk shop" the next day, as I wanted to pick his brain about the future of the Maxima. Wendy Payne (Manager of Corporate Communications for the Midwest Region) joined us later, and rounding out our little group was Paige Presley, Corporate Communications Specialist. Paige and I are both from the south, so we hit it off well – she's a gifted writer and a cheerful, enthusiastic asset to Nissan's team. What a great group of people and some fantastic new friends – Thanks for the great conversations!

On the way back to my room from dinner, I caught up with Steve Yaeger, Nissan's Technology and Motorsports Communication Manager. Steve is a true car guy, and one of those people you could sit and chat with for hours. We learned that we enjoy a lot of the same things, and know a lot of the same people… small world. Steve mentioned that he and a few other Nissan folks were getting up super-early to sneak out for Cars & Coffee over in Irvine, and I was welcome to join them… I didn't need a second invitation – I'll always forego an extra couple hours of sleep to enjoy a car event!
Six a.m. came really, really early, but I was excited to go see the spectacle that is Southern California's Cars & Coffee. Bruce Robinson, Senior Project Engineer for Nissan's Vehicle Performance Development Division, was my company for this trip, and he's got a long, broad history in the automotive industry. Rolling in, we saw that the guys from Nissan360 had beat us there, and they were already displaying the Infiniti Emerg-E and the NISMO Leaf RC. Those two cars drew a ton of attention, as expected, and I wandered off to take pictures of the rest of the vehicles in attendance.
Click here for a gallery of pics from Cars & Coffee.
I hope you're still with me, because we're only halfway through the event! Join me for an exciting Day Two of Nissan 360! Nissan 360 – Part 10