Now that Project 510 is all assembled, I think it's time to take it out and see if it'll move under its own power. After a few cranks, she fired right up – and the sound was nothing short of ungodly! Remember, we haven't installed an exhaust system yet, so she's running a lumpy cam and an open header.
Trying to set the timing and synchronize the carburetors (and adjust the air-fuel mixture) was deafening. Thanks to Doc's steady hand (and the fact that he doesn't hear so well, haha), with a few tweaks she settled into a rough, but workable, idle.
Not wanting to miss an opportunity to piss off the neighbors, I eased her into gear and rolled out into the driveway, testing the steering and brakes at low speed. Once everything seemed to be in working order, I made a preliminary lap around the neighborhood. It's hard to make mental notes on things that need to be addressed when you can't hear yourself think, but Doc and I both took a loop around the block anyway.
Since it had been over a year since she'd seen the light of day, I decided it was a good time for her to get her first bath.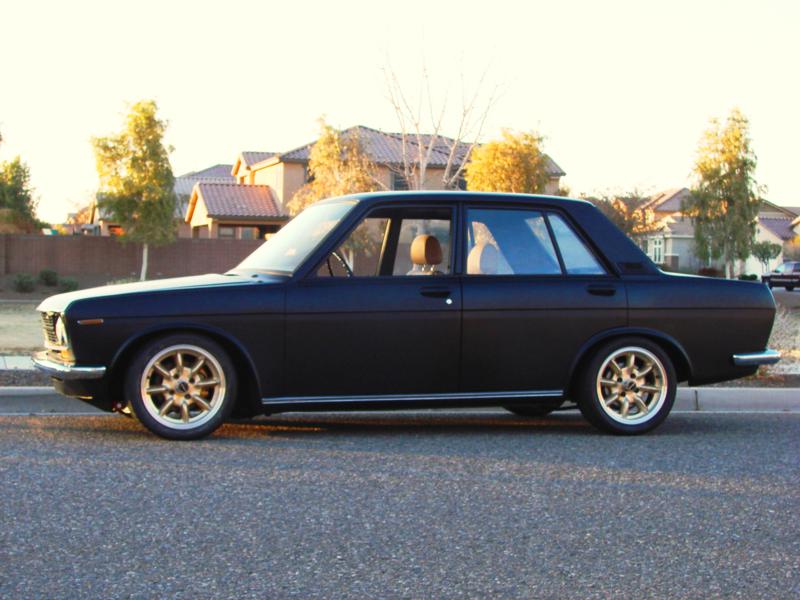 This gave me some time to mentally sort out all of the issues I took note of during the drive. She was bogging badly on acceleration, the brakes felt spongy, she tracked terribly, and of course needed an exhaust.
On the plus side, the suspension felt fantastic – even as low as it is, I could tell this was going to be a very comfortable and well-handling car.
With just two weeks left until she would be making her "public debut" at the JennaBears Car Show, I knew I had to hustle to get the other issues addressed.
Now's a good time to mention (again) how instrumental my friend Doc (Richard Lowell) was with getting this car done. As I said before, he's been building great 510's since they were new, and even though he's in his 70's, he would make the 1.5-hour drive across the Valley to wrench on Betty. That's a true friend, and this car wouldn't be anywhere CLOSE to finished without his expert assistance.
A lot more tinkering with the carbs, a distributor swap, and a few other tweaks got her running smoothly. A quick trip up to Network Alignment here in Phoenix got her rolling straight and true. Incidentally, once the alignment was set to the preferred "street / performance" specs per the rest of the 510 community, I found that I had picked up a little more space in the rear fenders for wider tires! The 195/45/15's looked great, but I prefer a little meatier rubber on my cars, and this thing was going to need all the traction it could get. There was no time to swap them out right now, but we'll come back to the tire decision a little later.
The 2.5″ exhaust was modeled after the system we at BRM Exhaust have been building for the 240sx for over a decade. An oval-bodied Magnaflow canister was selected and tucked up under the rear bumper area. Perfect fit, and now Betty sounds like a proper Japanese musclecar, with a healthy, deep loping idle and a threatening roar under high-throttle load.
With the brakes re-bled, we realized there was a poor interface with one of the lines at the master cylinder, which made for a messy job – Re-tapping the threads and adding a it of thread sealant straightened that issue out.
A week left to go – and we still didn't have "the look" I was after! Well, Alex Lopez from SkyPrintMedia came to the rescue. I showed him some pictures of the BRE 510's of the 70's, and asked him to cut some vinyl stripes that would match the wheel centers. With a short timeframe, he came through, and at the end of the day, I had this: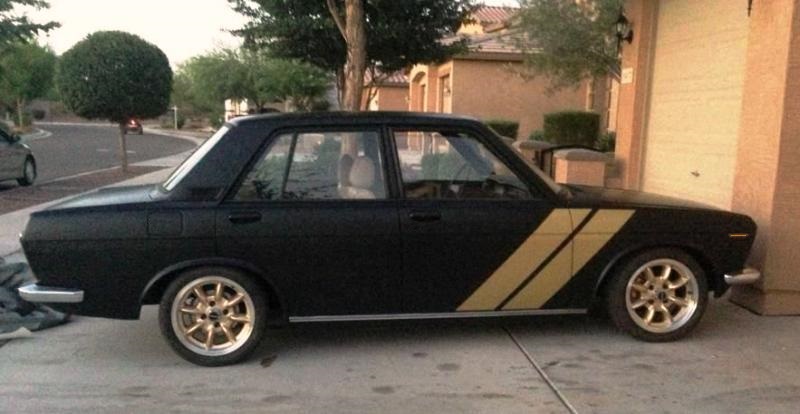 I think we can take her to her first event now, without embarrassment. With a bunch of NICO folks coming in from out-of-state to help out, we didn't have much time to spare… and just as time was running out, another setback almost spoiled our plans… Join us for Part 14 of Project 510 Build!