Now that the engine and trans were installed, the Z made its way back to our garage to await completion. Remember the parts car that had all the cool suspension and brake bits? They'd been collecting dust in the garage since the project started, so it was time to clean and paint everything in preparation for installation on the car.
Removal and reinstallation of the suspension is pretty straightforward on an S30, so there's not a lot of detail to go into. Pulling the old suspension components wasn't too difficult, considering the car had spent its life in the desert – no rust to speak of, and not a lot of grime and gunk.
I was actually surprised at how easily everything came apart (also, a Dewalt 18v cordless impact wrench is the perfect tool for quick disassembly of stuff like this). Removing the old suspension components:

The calipers I'd refurbished early in the restoration went on, and I realized there was another small problem: I couldn't find the stainless steel braided lines that came with the parts car! They were in one of the boxes of stuff, but just like several other small items, they somehow disappeared during the move. What to do? I didn't even know what would fit. I mean, we're going from the hardlines on the chassis (original Z stuff) to a set of late 80's Toyota 4×4 truck calipers and 90's Maxima calipers.
Online research didn't yield much info, other than a lot of conversions using AN fittings – but I wanted something simpler. I had access to a local shop (Arizona Tube & Hose), and they've done some custom automotive plumbing for me before. Just for kicks, while at NAPA the next day, I asked if they had any old Datsun rubber brake lines. They had a set for a 520/520 pickup for under $10. I figured, "Well, at that price, even if one end doesn't work, I can have the fittings cut off and used on a custom set." On a whim, I test-fitted them in the Toyota calipers – BINGO. There's no way they'd fit the Maxima calipers, right? Wrong. They fit there too! The only obstacle was that the Maxima calipers have an odd location for the line fitting, and it made the line interfere with the axle shaft as it rotated. So, I went back to NAPA and bought a short extension (with a female end and a male end), bent it 90 degrees, and attached it to the caliper – Perfect fitment.
Added fresh brake fluid, and went to bleed the brakes… but realized I'd forgotten to connect the new master cylinder shaft to the brake pedal. After an hour of fiddling with it, it became apparent that the pedal and master cylinder were going to be incompatible without modification, so I removed the pedal and re-drilled the attachment point. NICO Moderator Aaron (Ace2cool) was out for a visit, and lent a helpful hand (foot?) for bleeding the brakes. Three corners pumped up perfectly… one was still giving us fits – no fluid, no air, nothing. Something had to be blocking the line. I tried pumping fluid into the caliper – no dice. We scratched our heads, neither one wanting to think of the hassle of having to trace a blockage in a brake line (or consider the possibility of bad caliper). After lunch, we came back to give it another try.
Now, in all my years of wrenching, I've done some stupid things. Thankfully, I've only gotten random cuts and burns, puncture wounds, knocked out a tooth, and burned all the hair off my face. I'm a bit more careful now… well, most of the time. Thinking we might just have a slow leak of air someplace, I asked Aaron to give the pedal a good stomp, which he did – with a loud BANG, something shot upwards out of the brake line, missing my face by mere inches, and ricocheted off the inner wheelwell (along with a spray of brake fluid). Once I checked for missing eyes and fingers and my heart rate returned to normal, we found the culprit – Some sort of insect had made the brake line its home. Surprise eviction FTW.
With the brakes bled and the wheels put on, it was time to come off the jackstands. However, once everything was put together, I found that the ride height remained obnoxiously high. Now, out of our 12 vehicles, the only one sitting at stock ride height is the Frontier, so this simply would not do… with no identifying numbers or marks on the obviously aftermarket springs, I had no way of knowing what they were or what car they were designed for – but it was clear they weren't going to work out for this build.
So, a quick call to Tokico and a set of lowering springs were on the way. The blue "unknown" springs were removed and replaced with the red Tokico units, and a fresh set of KYB strut inserts were added to make sure the ride was well-damped.
Replacing the springs and shocks on an S30 isn't a real difficult affair, but having an extra pair of hands to help is a must – thankfully, Becky knows her way around the garage and with her assistance, we made quick work of the task. As soon as we set it back on the ground, we knew we had the stance just right.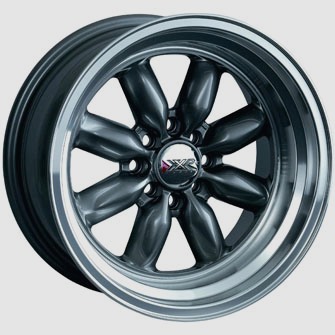 The progress we'd made so far was encouraging, and we started to see the light at the end of the tunnel. It became clear that the wheels I'd picked up weren't going to go with the "theme", so I asked Becky to pick out something she'd like better.
She's always been fond of classically-styled Japanese wheels, and she really likes the Watanabe-look wheels for an old Z, but she also wanted to keep this project within budget. So, during this phase of the build, she ordered a set of XXR 513's in 16×8, zero-offset, with charcoal gray centers. She's got good taste. A set of Kumho 245/45/16 summer tires were ordered… with the power it'd be making, we wanted lots of rubber on the ground, and that's more tread than a Z32 TT originally had. With what we saved on the wheels, we decided to have the euro-style bumpers rechromed, rather than powdercoated, and I think you'll agree that it was the right call.
Part 12 – What's left to do? Check out Part 12 and see!
Questions? Comments? Just want to discuss the build? Here's where: Building an RB25DET-powered 240Z