This is where the restoration turns into a much bigger project – and really gets rolling.
Whenever I had talked to Becky about possibly selling the Z, she'd encourage me to press on and stay the course. She even gave it a name: Bella. So, I thought, what better engagement gift than to build her dream car – the car that was the topic of our first conversation. With renewed motivation, I dug in with every spare moment to get the car as close to completion as possible before it was time to go to Tennessee to finally move her to Arizona.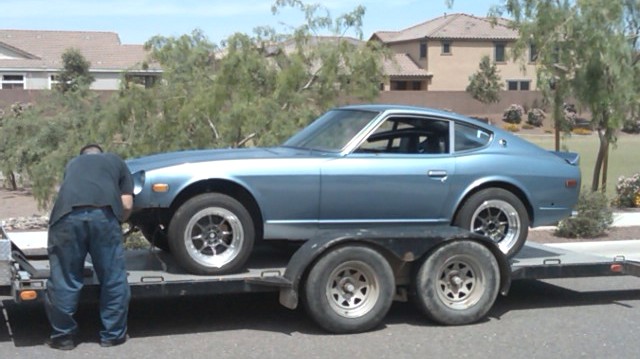 But now, I had a reason to go above and beyond a simple restoration. No, now it needed to be special. It needed to be something that would make an impact. In short, it needed to be as awesome as her new driver. And, as is always the case, a long talk with Jason about the project sent it in a whole new direction. Bella wouldn't just be a restoration – she'd be a beast. See, it just so happened that he had an engine that would suit her perfectly, and the market was weak for engine swaps – no one wanted to drop the money for a low-mileage, pristine example of one of Japan's finest powerplants.
So, I became the owner of an RB25DET, and off the Z went for her heart transplant.
Fast-forward a few months… Becky moved to Arizona, we got married and settled into a new awesome life… she took over a lot of the day-to-day operations of NICO, which left me some time to actually complete some of the tasks I'd been putting off.
By now, the Z was over at Jason's shop (the same place where we built The Droptop from Hell), and work was underway to fit the RB25 in the engine bay. Here you can see the RB – Not your typical JDM takeout motor!
Becky and I popped in as often as possible to lend a hand, but this was HIS show… The direction was clear: use your imagination and do it your way. Jason's an impressive fabricator (way more talented than he gets credit for), and he took every opportunity to show off his creativity and problem-solving skills.
As anyone who's done an S30 RB25 swap will tell you, there's a lot of fabrication and modification involved, especially if you're not buying a bunch of pre-fabbed parts – and neither Jason nor I are real fond of off-the-shelf conversion parts. There's several companies that make custom mount kits to install an RB in an S30, but they're all lacking something… We decided this would be a 100% custom installation, so that everything could be done the way we wanted it.
Follow along for Part 9 – Installing the RB25DET into the 240Z!
Questions? Comments? Just want to discuss the build? Here's where: Building an RB25DET-powered 240Z