In preparation for loading the engine back in the car, I did some work on the engine bay. Most of the unnecessary holes were filled, seams covered with POR-15 seam sealer, and a fresh coat of flat black covered the metal. I considered shooting it with the body color, but that would have necessitated fender removal, as well as refurbishing the crossmember, steering rack, and a lot of other parts that I wasn't interested in dismantling.
Those of you who have done a build or a restoration know that sometimes, you go through a phase where you just want to do little half-day projects… those small tasks that can be knocked out in three to five hours. That's where I was. I suspected I'd be challenged to make time for reinstalling the engine, so I got a few little jobs done. First, I installed the larger booster and master cylinder that was on the parts car. This, of course, placed the brake lines in a little different position, so there was some re-bending involved… but it came together nicely.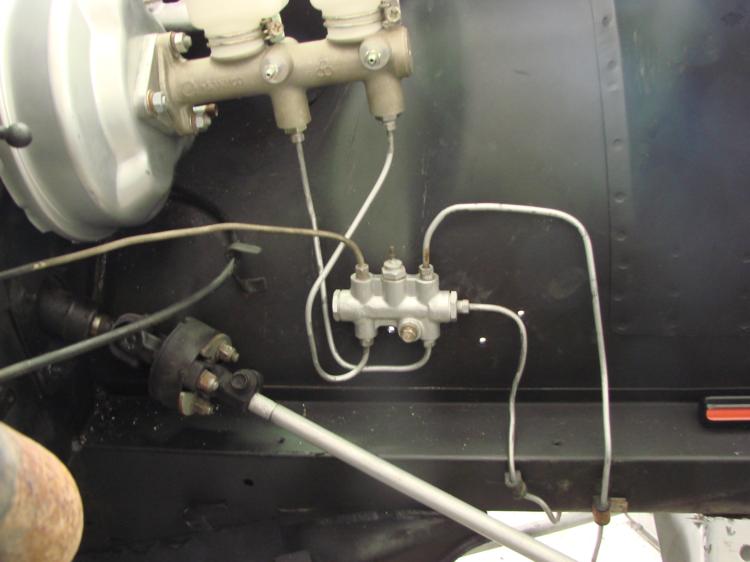 While unpacking some stuff in the garage, I ran across a rebuild kit I had ordered for the front calipers. A quick beadblast made short work of the nasty finish. New seals, hardware, and a fresh coat of gold caliper paint gave them new life – these would definitely outperform the stock brakes!
Around this time, we were all settled into our new house and a new lifestyle. The kids had adjusted to a new school and had made new friends. I was throwing myself into work, both on NICO and my projects. I was attending every local track day I could get to in the G35 Coupe, and had taken on the task of supercharging it. Meanwhile, the Z sat idle for another year, engine on a stand, just waiting for renewed interest. I even entertained the idea of selling it, but that meant putting it back together to some extent… there simply wasn't enough time to do what I wanted to do.
I was trying to get out once in a while and resume some semblance of a social life, dating a little, and time seemed to fly by. Life went on while the Z sat patiently under a cover in the garage.
Hey, every real car guy has that one project that he never really finishes, right?
Right. Well, sort of.
In fact, that makes a great title for Part 7: Leave it to a woman to get the project back on track.
Questions? Comments? Just want to discuss the build? Here's where: Building an RB25DET-powered 240Z