Yep. You read that right. It took a woman to get me back into the Z project – this time, with a vengeance.
Those of you who are ONLY here to read about rebuilding a classic Z can just skip on to the next page. Or, stick around and find out how this project REALLY came to get completed.
Anyone who's been on NICO for a while knows that I occasionally posted up updates of my project here on the forum. I had a few pics of my cars up on MySpace and Facebook, if only to make it clear to potential dates that I'm a car guy. It helped to weed out the flakes… especially if they know ahead of time that I'm a lot happier in the garage, elbow-deep in old car grime. In fact, after a year of dating, I finally decided I wasn't going to date ANYONE who didn't appreciate my hobby. It's just easier that way. And as you guys know, that kinda limits our options.
As luck would have it, one evening I got a message from a new forum member, nissangirl74. She complimented me on the color choice for the Z, and asked specifically what color it was… Which was followed by a wisecrack: "I'll be surprised if it ever starts again, considering you painted it a Honda color."
Wait, what?
Now my interest was piqued. Turns out, her favorite car design is the 70-73 240Z. She's owned four Datsuns, and knows cars pretty well. Is this someone's idea of a cruel joke? A single girl who likes cars? Our online chats grew longer – several nights were spent chatting into the wee hours on AIM (sometimes straight on through to the morning: "CRAP, I gotta leave for work!"). She lived in Tennessee, I lived in Arizona. 1900 miles apart… but I really, really enjoyed our long talks. She'd send me links to ebay auctions for Datsuns, which we'd critique (or drool over). We'd discuss stuff happening on the forums. We talked about our kids, our jobs, our hobbies, our past, and life in general… we covered a lot of ground in those marathon chat sessions. Seemed like we were on the exact same page on everything. I'd find myself hurrying home from work just so I could chat with her longer. Crazy? Yeah… Very.
Coincidentally, an upcoming business trip was taking me about a hundred miles from her hometown in a couple months, and I asked if we could catch up for dinner while I'm there? It's a date. No, it's not. Well, sorta. We even laughed at the thought: What if we meet and really like each other in person? Wouldn't that be crazy? And even if we did, then what? Argh, no sense getting your hopes up – there's gotta be a catch. No one gets THAT lucky. Hell, I didn't even have a clue what she even looked like… but no matter how insane it sounded, I couldn't wait to meet this girl.
A couple weeks prior to leaving for TN, state budget cuts necessitated a cancellation of the conference. No way! Screw it, I'm going anyway. I messaged her that night, told her what had happened, and asked if I could still come out for a visit. A six-hour flight for a first date? Hey, stranger things have happened – besides, now we'd have more time to hang out. I booked a round-trip flight and a rental car for the weekend, figuring if it doesn't go well, I can always wander around eastern Tennessee or go visit my aunt and uncle in North Carolina. Was I nuts for pursuing this? Stupidest mistake ever?
To make a long story quite short, when I arrived at her place to pick her up, I was instantly smitten – she was absolutely gorgeous, and more fun in person than online. We hit it off right away, and spent the whole weekend together touring eastern Tennessee and getting to know each other. I hated coming back home. Another month of online chats and phone calls, and we decided to attend the 2009 Nissan Convention in Savannah together. It was then that I popped the question… Yes, on our second date. With no idea how we were going to make it work, we started making plans. Leaving Savannah (and Becky) for the next two months was the hardest thing I've ever done, but I knew I had to get a lot done before we could merge our schedules, our families, and our lives into one functional unit.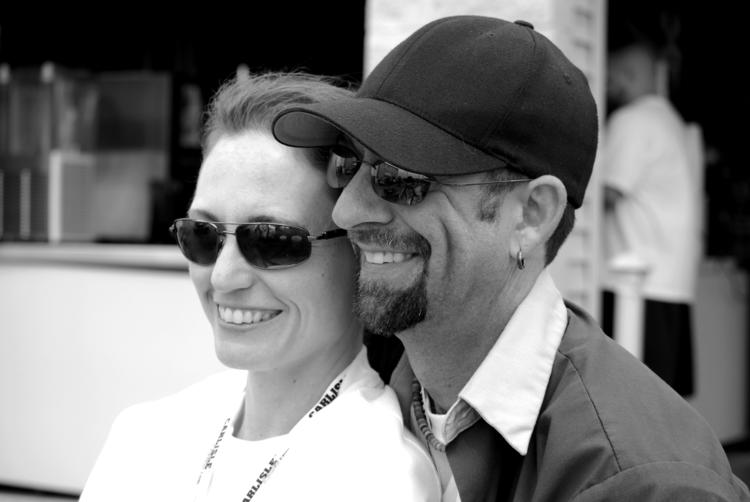 A couple months later, we attended the Carlisle NICOfest meet together (our "coming out" event). Becky fit right in, got to know some of the staff and members, and we had a blast. Yet another month went by filled with long chats and longer phone calls…
And that brings us back to the car…
Part 8: Project 240Z goes from simple restoration to simply awesome.
Questions? Comments? Just want to discuss the build? Here's where: Building an RB25DET-powered 240Z