2017 Infiniti Q60 Red Sport 400 AWD Test Drive
– by David Muramoto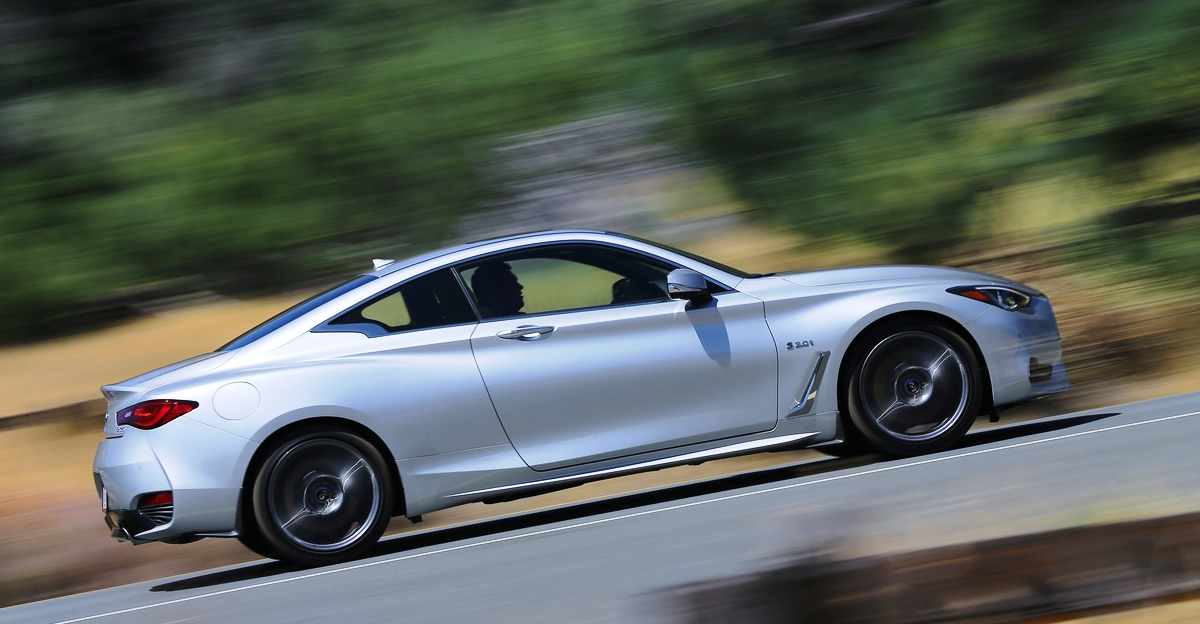 The long-awaited successor to the very successful G37 (nee Q60) coupe has arrived. With styling taken almost directly from the Q60 Concept, the new Q coupe manages a sleek and sophisticated look, with touches that befit a luxury performance car. These details include items like a small aero bulge that starts in the grille and extends into the nose, and crisply executed lower fender vents. Of course, there's a prominent chrome grille – with the biggest Infiniti badge seen to date — paired with two sleek HID headlight modules to give the Q60 an aggressive looking face.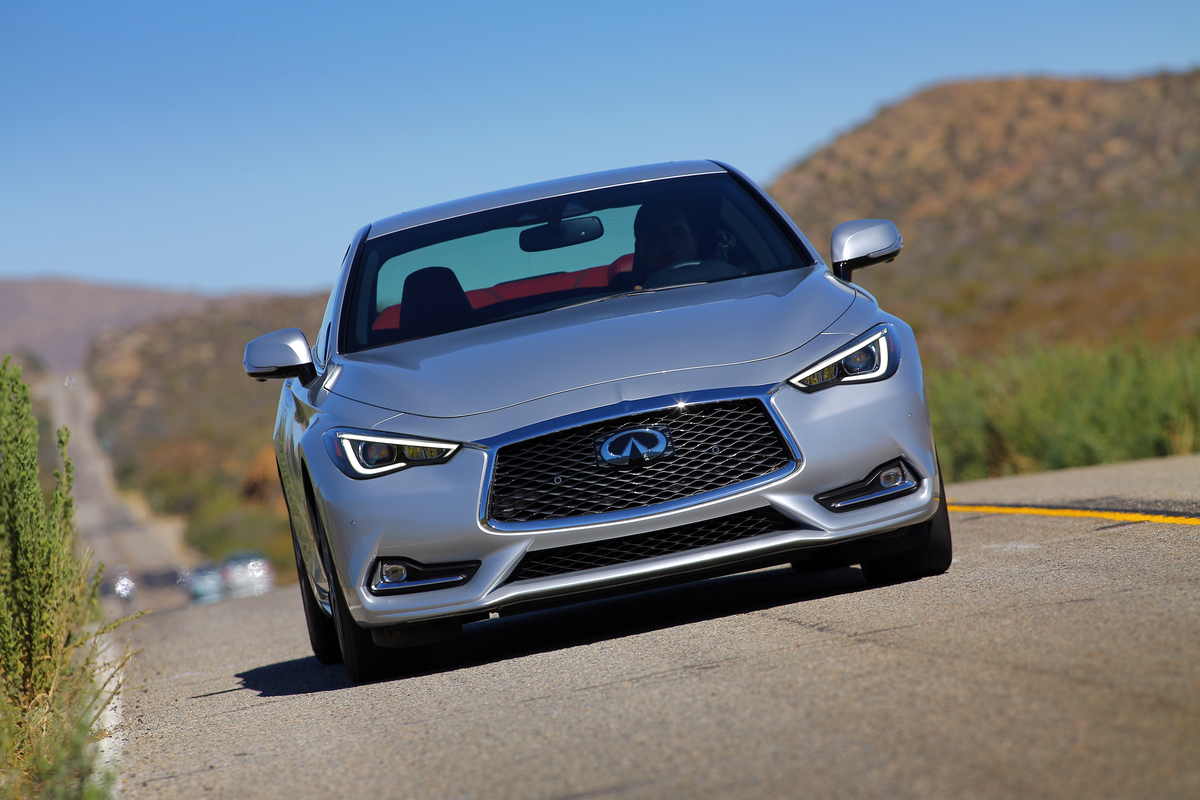 It's worth noting the Tochigi plant in Japan had to be retooled to create moldings and body stampings that matched the Q60 stylists' imaginations. A strong shoulder line extends across the flank, with ridges that swoop upwards toward the signature Infiniti crescent C-pillar to mark it as a special vehicle. Each detail contributes to the quest for more efficient aerodynamics. With a Cd of 0.28, the Q60 has less drag than its predecessor and almost any other Infiniti production vehicle.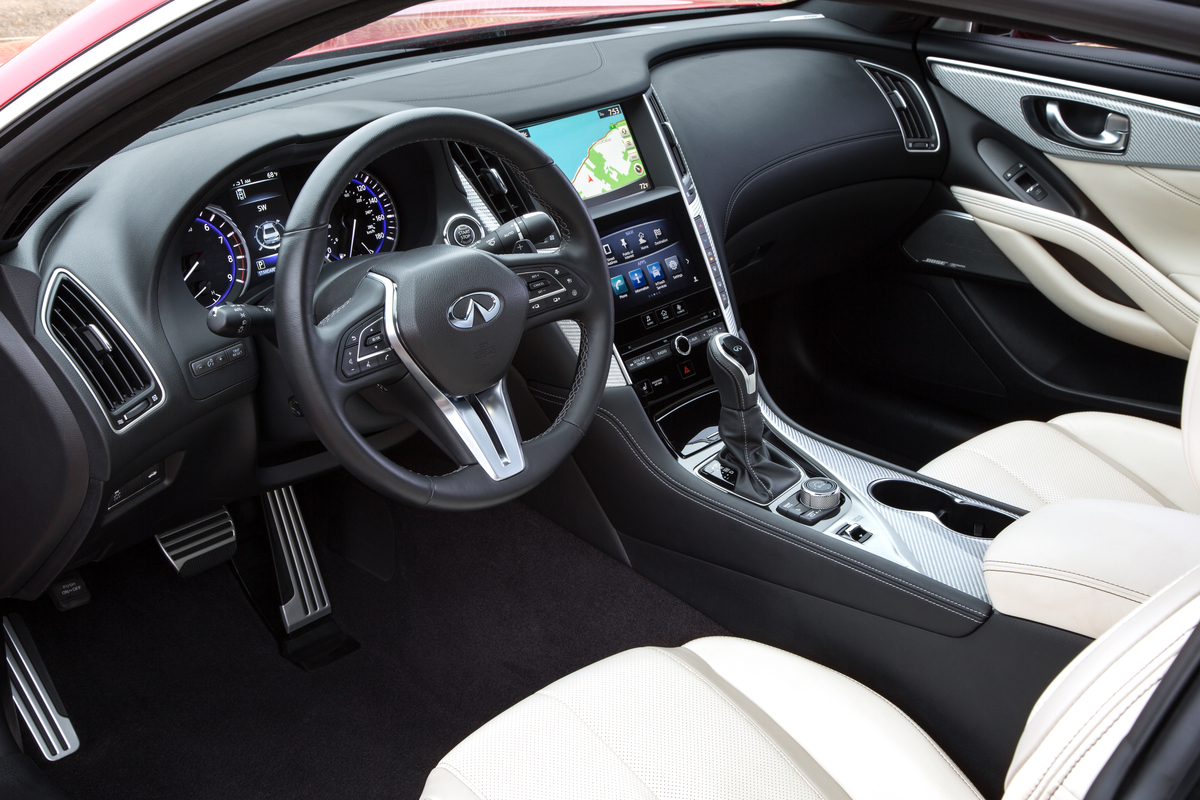 Open the door and be equally impressed with the interior styling. Although somewhat derivative of the Q50 sedan, the design of the central instrument pod blends winged accents around the tachometer and speedometer, as well as incorporating a multi-function screen in-between. It's easy for the car to convey navigation or other info on this screen and the new steering wheel has a switch to easily toggle between them. The center stack incorporates two full-color screens to easily display navigation (on the top) and entertainment or other apps below. Most of the radio, HVAC and nav controls are duplicated by knobs or buttons, so I found it quite easy to utilize most functions without having to use a guide.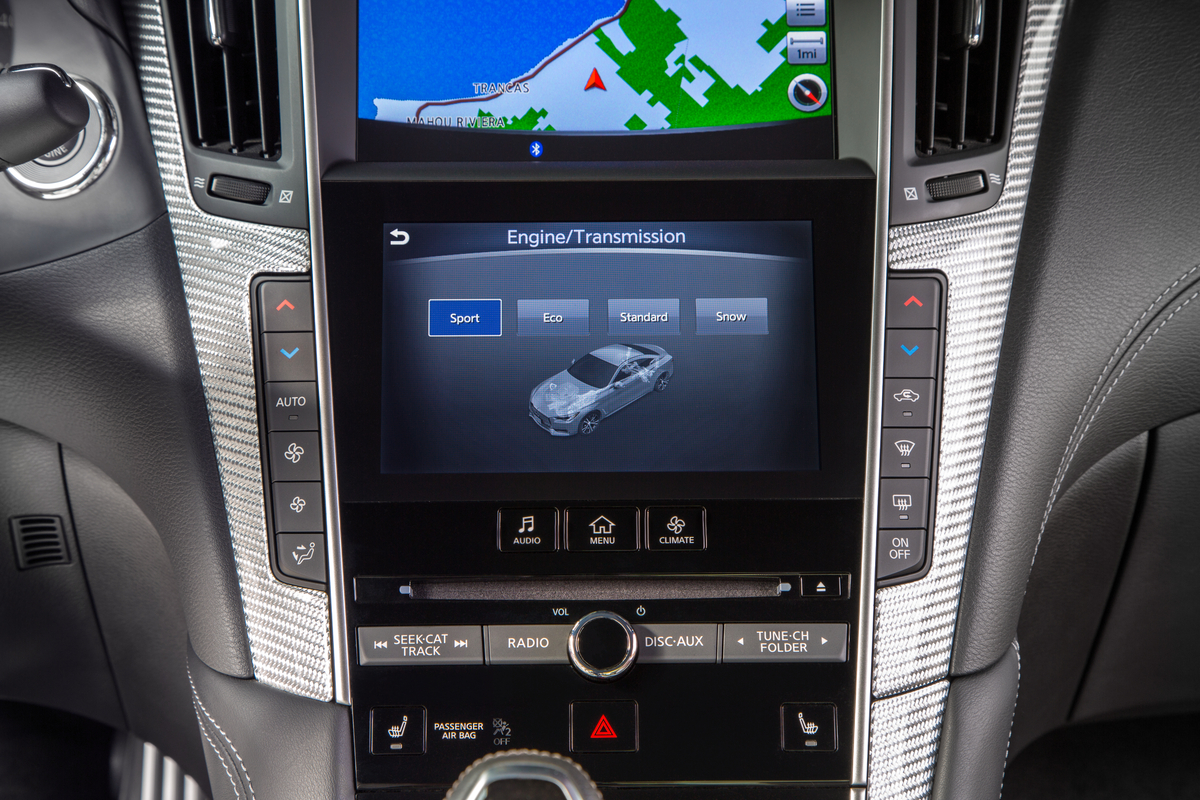 "Gallery White" semi-aniline leather and silver carbon fiber accents (part of the optional $2,250 driver assistance package) highlight the luxury of this well-appointed cabin, with eight-way power seats to ensure comfort. Driven at night, restrained LED lighting around the cockpit adds a touch of elegance to the doors and shifter area. Compared to its predecessor, the new Q60 continues to move upscale in both form and content.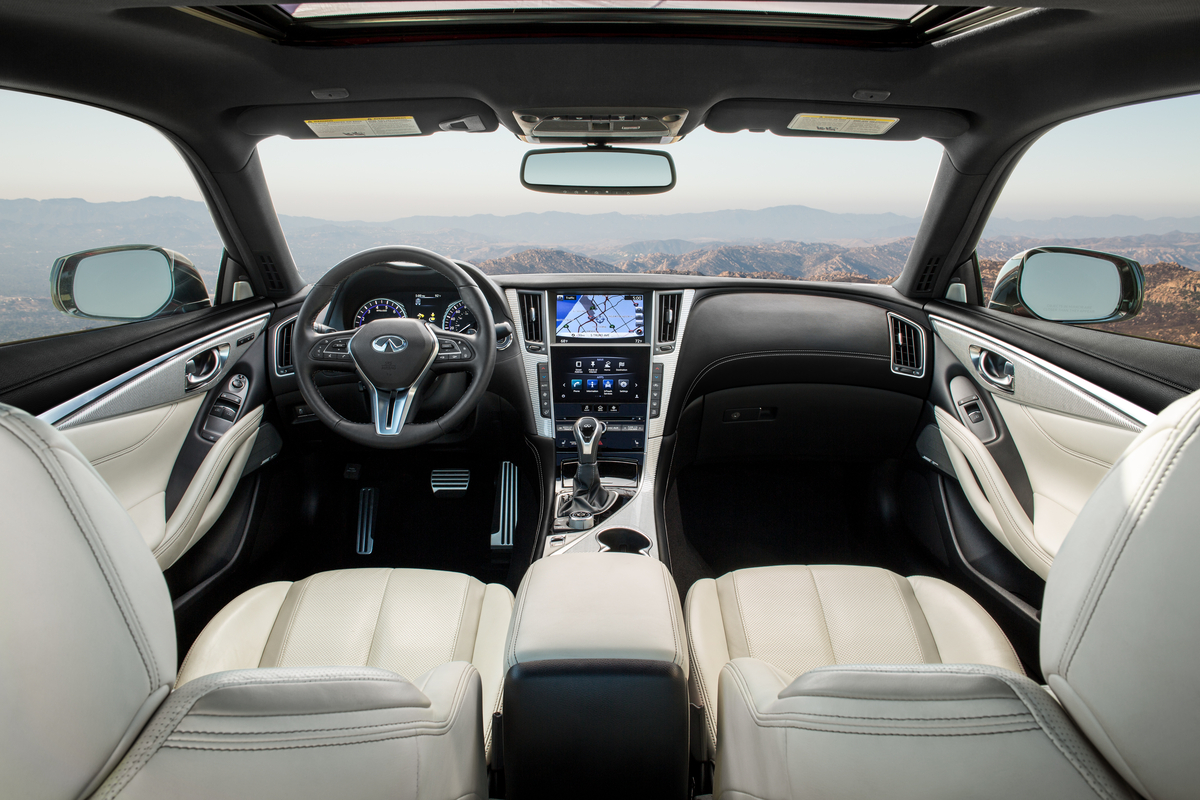 But it's the driving that will determine whether the new Q60 Red Sport 400 really shines. Hit the start button and use all those adjustments to find just the right driving position. It's readily apparent that Infiniti's latest direct adaptive steering (DAS) works well enough to make the Q60 easy to maneuver; the steer-by-wire system cuts down on the amount of steering lock needed when the car understeers. At speed, and exiting the highway on a winding off-ramp, it's still apparent how much the 3,825 pound machine will understeer at the limit. Despite trying different driving modes (accessible via a small toggle on the shifter console), I was less than successful trying to transition the car to oversteer a bit. But straightline speed? Yes, the Red Sport 400 delivers, with a rush of power starting at 2,300 RPM and continuing on to a 6,500 redline as the seven-speed automatic transmission delivers firm, quick shifts.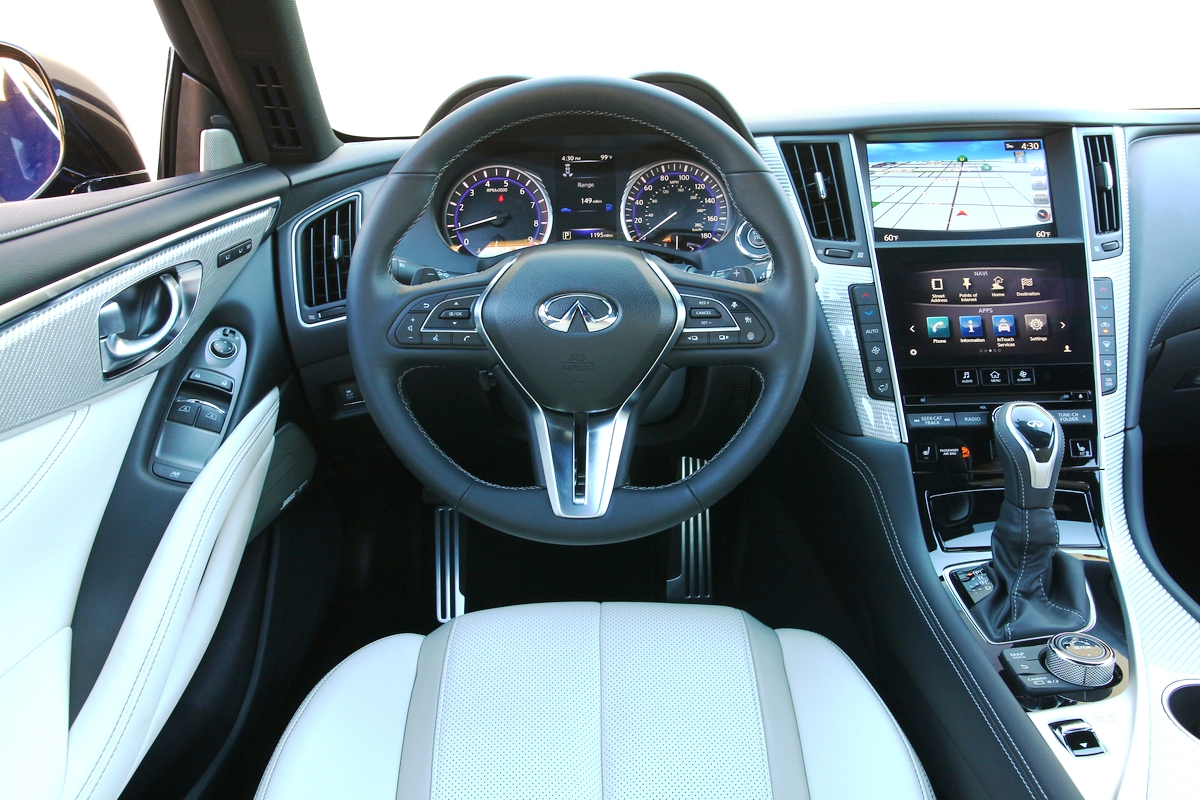 Many will ask: How does it compare with the R35 GT-R? While this 3.0-liter, 60-degree VR30DDTT features direct injection, it's tuned for smoothness, not the head-snapping, all-out performance that Godzilla offers. Still, five second 0-60 times are nothing to sneeze at, and the Q60 Red Sport 400 can easily snap off runs like that.


Stopping was equally impressive, with standard monoblock calipers clamping down on huge 14" rotors, while four channel ABS allowed them to be easily modulated. The suspension (double wishbones up front, multi-link rear, and a beefy swaybar package all around) allows the Q60 to feel and react like a smaller coupe most of the time, but the 19" tires (255-40-19s) have only so much contact patch to work with. The Infiniti AWD system continues to deliver RWD feel and function until the system senses slip and then shifts power to the front wheels. This does have a negligible effect on overall mileage, as the Q60 Red Sport 400 AWD is rated at 19 city/26 highway/21 combined (one MPG lower across the board to comparable RWD models).
Cost of the Red Sport 400 package is worth going over, starting with the $53,300 base price. This was augmented by several options: The $1,850 Technology package, $1000 DAS, $2,250 Driver Assistance package, and $2,250 Premium Plus package bring the grand total to $61,555 (including destination charges). Expensive? No doubt. But this Liquid Platinum Q60 Red Sport test vehicle also demonstrated a level of sophistication and luxury that puts it squarely into competition with the best that Audi, BMW, Lexus and Mercedes can produce.
While some might argue that adding technology and bigger power is the best way to offset the ever-increasing complexity/weight of performance cars today, I suspect other voices at Infiniti and Nissan might also argue for compact construction, forced induction and lighter materials to achieve better power-to-weight ratios. But for now, the future is here and the Q60 Red Line 400 AWD coupe continues a tradition of balancing both luxury and sport to create another superb state-of-the-art Grand Touring coupe.